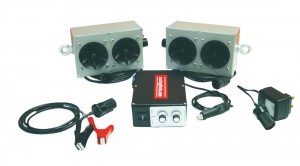 Choice of ultrasonic or audible output.
Control mode and length of blast from easy to use control unit.
Powered by mains electricity or 12 volt battery.
Up to 8 external twin speaker slave units.
Long cables enabling sound to be directed to where needed.
Suitable for industrial and domestic buildings, power and communications towers, churches, gardens, boats and many other applications.